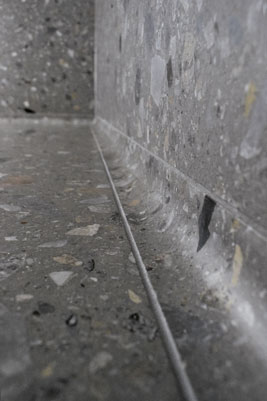 Vrak – Museum of Wrecks
Stockholm, Sweden
The maritime archeological museum Vrak – Museum of Wrecks takes visitors on an immersive journey among the historical wrecks and relics of the Baltic Sea with the aid of digital technology. Agglotech marble-cement cladding was selected to lend distinctive character and sophistication to the architecture of this Swedish attraction.
The project
Located in the island district of Djurgården, in Stockholm, the building is surrounded by historical shipyards and shipwrecks and set in the evocative context of the Baltic Sea. The concept for the project took inspiration from nature, as seen in the surfaces clad in an aggregate of marble, Portland cement and water. The food-services area and the restrooms of the museum also feature Agglotech's Venetian flooring, color SB130 Aggloceppo, a distinctive version of Venetian terrazzo with marble chips of varying shapes and sizes set in a delicate gray cement base, which lends character and elegance to the entire setting.
The remarkable versatility of this marble-cement aggregate has enabled it to also be used in the restrooms as wall cladding and sink countertops. And to ensure the utmost hygiene by preventing any buildup of grime and bacteria in the cracks that can form where the walls meet the floor, the baseboards have been finished in such a way as to eliminate any hard-to-clean nooks and crannies.
Other projects
Discover the latest projects made with Agglotech materials.
Our Terrazzo lines
Only natural elements
Our exclusive industrial process gives us the possibility to create customized materials without the use of resins: in fact, we have an archive of more than 3000 colors made over the years on specific customer requests.
Architectural Terrazzo
Discover our projects and the materials with which they are made