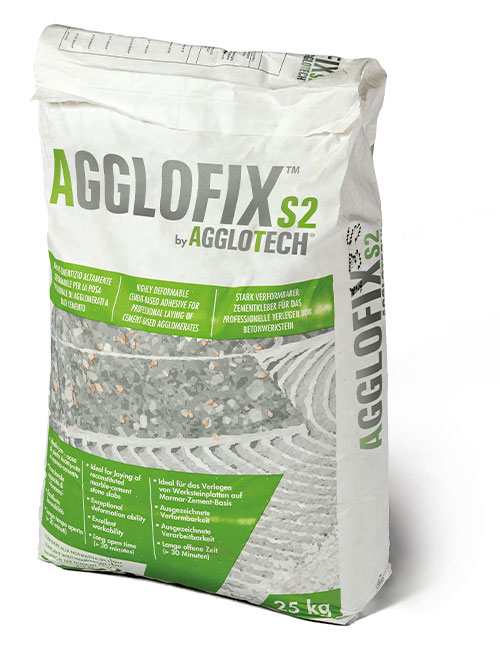 Discover AGGLOFIX S2, our new adhesive for terrazzo
The only adhesive on the market designed specifically for Venetian terrazzo
The result of AGGLOTECH know-how amassed over the years, AGGLOFIX S2 is the only adhesive on the market designed specifically for marble-cement terrazzo. With its remarkable elasticity, AGGLOFIX S2 avoids issues most commonly encountered when laying marble agglomerate with the wrong type of adhesive.
AGGLOFIX S2
AGGLOTECH designed this innovative product as an additional service for you, our customer, and to offer you competitive pricing.
AGGLOFIX S2 is a white, cement-based powder adhesive that ensures high mechanical strength with the help of synthetic resins that provide greater elasticity and other special additives that make it highly deformable (S2) under mechanical stresses.
The special additives in our AGGLOFIX S2 enable the product to remain exposed to air for more than 30 minutes, ensuring both ample time to apply the adhesive and excellent spreadability even in the most challenging contexts. Perfect for terrazzo flooring, terrazzo stairs, and the installation of other terrazzo cladding and design elements, Agglofix adhesive has arisen out of the great many projects Agglotech has developed over the years.

AGGLOFIX S2 has earned the CE mark in accordance with the EN 12004 standard.
Easy and effective installation
Video showing how to use Agglofix S2
Our new Agglofix S2 adhesive is extremely easy to use: use the smooth edge of the trowel to spread a thin layer of adhesive to the subfloor, then comb the adhesive with the notched edge of the trowel.
There is no need to dampen the slabs before installation unless the underside is very dusty. If so, dip the slab quickly in clean water (but then dry off any residual water from the underside). Install the slabs as you would any tile of this type by applying enough pressure to ensure good contact with the adhesive.
Under ordinary environmental conditions, AGGLOFIX S2 may remain exposed to the air for more than 30 minutes. However, this time is subject to variation depending on the weather conditions and on the absorption level of the subfloor.
See our installation page and watch the installation video carefully for more information.
Architectural Terrazzo
Learn more about our projects and the materials used