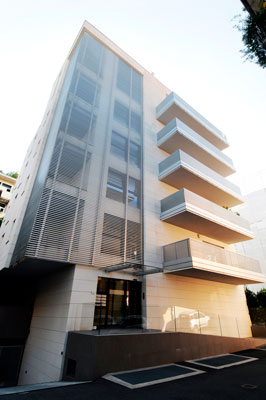 Via Vittorio Emanuele II residential complex
Bergamo, Italy
On Bergamo's lovely Viale Vittorio Emanuele II, Agglotech's marble cement provides a stunning, functional facade for a residential complex, uniting excellent technical performance with a level of beauty that only marble can provide.
The project
Seeking a material that would give them design, functionality, and durability over time, the designers, working in collaboration with Trapattoni Marmi, selected Agglotech's sophisticated Venetian terrazzo for the cladding on the facade of an apartment complex. The elegant slabs of marble cement, featuring a fine marble aggregate amalgamated in a white cement base, exalt a modern residential building with clean, simple patterns. This SB100 White terrazzo takes advantage of the qualities of nature for a harmonious facade that pairs well with the darker tones of the steel and other materials used. Being highly resistant to extreme temperatures, humidity, and weather, Agglotech's marble-cement agglomerate is an ideal solution for the cladding of exterior surfaces.
Other projects
Discover the latest projects made with Agglotech materials.
Our Terrazzo lines
Only natural elements
Our exclusive industrial process gives us the possibility to create customized materials without the use of resins: in fact, we have an archive of more than 3000 colors made over the years on specific customer requests.
Architectural Terrazzo
Discover our projects and the materials with which they are made