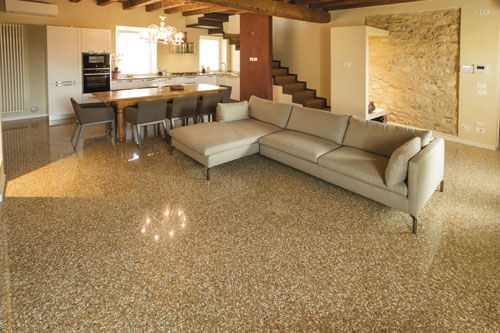 Private residence in Quinto di Valpantena
Verona, Italy
For an apartment in the peaceful setting of the Valpantena wine region, in the province of Verona, Venetian terrazzo was chosen to give a unique character to the apartment's interior design.
The project
Venetian terrazzo, in the characteristic version SB141 Multicolor Verona, was chosen for a private residence in the province of Verona. Terrazzo was used in a variety of applications, including flooring, kitchen countertops, and wall cladding in the bathroom. It is a prime example of the versatility of this elegant material. A part of Agglotech's "Classico" line, the color selected features mid-sized chips of red Verona marble aggregate set in an ocher-colored cement base.
The combination of colors in this terrazzo gives the apartment a touch of contemporary flair when set against the residence's more traditional furnishings. The terrazzo's personality is particularly evident in the open-concept layout, in which the Venetian flooring lends volume, depth and sparkle to the space, while creating a warm, comfortable atmosphere.
Other projects
Discover the latest projects made with Agglotech materials.
Our Terrazzo lines
Only natural elements
Our exclusive industrial process gives us the possibility to create customized materials without the use of resins: in fact, we have an archive of more than 3000 colors made over the years on specific customer requests.
Architectural Terrazzo
Discover our projects and the materials with which they are made