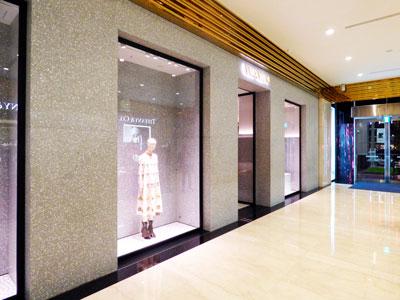 Valentino – Taipei
Taipei, Taiwan
In downtown Taipei, the Valentino store continues the tradition of innovation in design pursued by Pierpaolo Piccioli in collaboration with the renowned architect David Chipperfield. The marble-cement aggregate provided by Agglotech plays a key role in the architecture of this project and is consistent with the design of all of the Italian fashion house's new flagship stores.
The project
The ambience of each Valentino store is distinctive, the result of personalized color palettes, lighting and textures. To make their design truly unique, Agglotech, in collaboration with Pierpaolo Piccioli and David Chipperfield, has created an entirely custom-made Venetian terrazzo for each of the Italian fashion house's new stores. The white marble chips set in a gray cement base exalt Valentino's fashion collections, accessories, eyewear, and fragrances on display. Again for this project, the marble cement was used for the flooring, for interior wall cladding, for the columns, and to create a number of sculpted design features. With an eye to both tradition and the context at hand, Agglotech is able to make skillful use of materials in each and every product, ensuring that the company's terrazzo will exalt any decor.
Other projects
Discover the latest projects made with Agglotech materials.
Our Terrazzo lines
Only natural elements
Our exclusive industrial process gives us the possibility to create customized materials without the use of resins: in fact, we have an archive of more than 3000 colors made over the years on specific customer requests.
Architectural Terrazzo
Discover our projects and the materials with which they are made