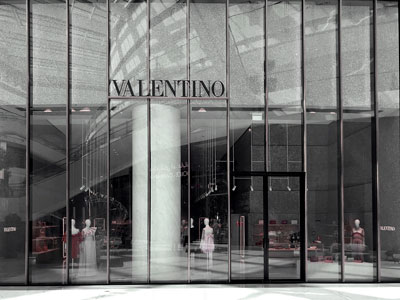 Valentino – Dubai
Dubai, United Arab Emirates
For the fashion house's new store in Dubai's Mall of the Emirates, Valentino is promoting the organization's architectural style based on an innovative concept of what a boutique should be. In line with the style chosen for all Valentino stores around the world, the marble aggregate flooring and interior cladding has been produced and provided by Agglotech.
The project
Designed by the world-renowned David Chipperfield Architects, Valentino's new Dubai store features the same concept created for all of the fashion house's stores around the world. Agglotech's Venetian terrazzo remains the focal point of the store's architecture. With the company's production technology used to produce marble blocks that are then cut into slabs, Agglotech has been able to produce a terrazzo that is custom made for Valentino and has proven to be the ideal solution for all their stores. Highly visible even from outside the store, this marble-cement agglomerate white, mid-sized chips of marble aggregate set in a gray cement base. Elegant wood inserts and brass clothes hangers complete the overall look of the space and are in perfect harmony with the terrazzo flooring and cladding.
Other projects
Discover the latest projects made with Agglotech materials.
Our Terrazzo lines
Only natural elements
Our exclusive industrial process gives us the possibility to create customized materials without the use of resins: in fact, we have an archive of more than 3000 colors made over the years on specific customer requests.
Architectural Terrazzo
Discover our projects and the materials with which they are made