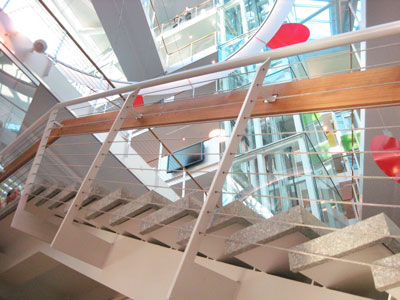 Unilever Headquarters – Hamburg, Germany
Hamburg, Germany
Across from the cruise terminal on the Elbe river and overlooking the Strandkai promenade, the building, which had also served as the headquarters of Unilever, has opened its doors to the city of Hamburg and its residents. For the headquarters of this global consumer-goods powerhouse, Agglotech provided the marble cement for the flooring and the cladding for the stairs.
The project
For the interior flooring and the cladding for the stairs of this office building, the project called for a material that would be resistant, durable over time, and easy to clean and maintain. The characteristics of Agglotech's Venetian flooring fully met all the needs of the project's designers and proved to be the right choice for the flooring of large surface areas subject to high levels of traffic. The luminosity and sheer beauty of our SB130 Aggloceppo marble-cement agglomerate has given a distinctive personality to the building and heightens the feeling of welcome the spaces evoke. For this project, the use of all-natural elements, such as the marble aggregate and Portland cement, results in a Venetian terrazzo that features a deep gray cement base enriched by the varying colors of the marble chips it embraces. Provided with a honed finish, this marble cement results in a slip-resistant flooring while instilling a vibrant dynamism wherever it is used.
Other projects
Discover the latest projects made with Agglotech materials.
Our Terrazzo lines
Only natural elements
Our exclusive industrial process gives us the possibility to create customized materials without the use of resins: in fact, we have an archive of more than 3000 colors made over the years on specific customer requests.
Architectural Terrazzo
Discover our projects and the materials with which they are made