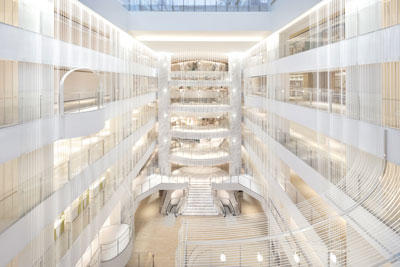 Times Square – Shanghai
Shanghai, China
Located in the Pudong district, Shanghai Times Square is the result of the reconfiguration of a former commercial building that now houses 170 retail businesses, including fashion and lifestyle shops and a great many restaurants, covering a total surface area of more than 50,000 sq m (538,200 sq ft). For this project, Nendo Architects went with Agglotech's Venetian terrazzo for a portion of the flooring and interior wall cladding.
The project
The three different colors of terrazzo provided by Agglotech are featured in the flooring and interior cladding of China's new Shanghai Times Square, lending the structure a touch of distinctive Italian design. Color SB240 Torcello was used in a number of areas to evoke the tradition of Venetian seminato as embodied in its large, white marble chips set in a gray cement base. To lend the space greater light and consistency of color, SB1000 Thassos, a marble-cement agglomerate made with a mix of small marble chips extracted directly from the white marble quarries on the Greek island of Thassos, was also used. Finally, a fully custom-made terrazzo featuring a delicate orange hue gives the whole setting a modern style in which the austerity of white and gray is elevated by a touch of Italian flair.
Other projects
Discover the latest projects made with Agglotech materials.
Our Terrazzo lines
Only natural elements
Our exclusive industrial process gives us the possibility to create customized materials without the use of resins: in fact, we have an archive of more than 3000 colors made over the years on specific customer requests.
Architectural Terrazzo
Discover our projects and the materials with which they are made