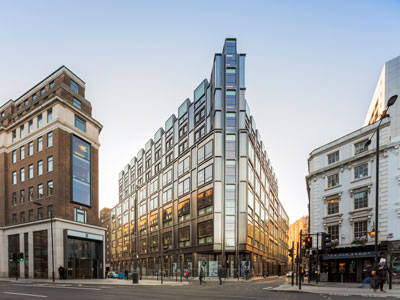 The Post Building
London, United Kingdom
On New Oxford Street, in the heart of London, The Post Building, the result of the transformation of a former sorting site for the Royal Mail, is hyper-connected to some of the city's most vibrant business districts and has brought back to life a structure that had lain abandoned for over twenty years. The development is the new home to offices, shops and restaurants and sports a fully custom-made variety of Agglotech's Venetian flooring.
The project
Agglotech produced and provided two fully custom-made colors of Venetian terrazzo for The Post Building, lending this new London development a remarkably natural, modern look in perfect harmony with the building's post-industrial architecture. Multi-colored, small-chip marble aggregate is featured in both versions, one in a delicate gray hue and the other a darker shade of gray, which were used to create a geometric pattern that lends the space its distinctive character and aesthetic appeal. The building's modern design provides spaces that stimulate creativity and enhance the overall experience of working here, which is why the designers went with Agglotech's marble cement as the ideal solution for both its technical performance and its sheer beauty.
Other projects
Discover the latest projects made with Agglotech materials.
Our Terrazzo lines
Only natural elements
Our exclusive industrial process gives us the possibility to create customized materials without the use of resins: in fact, we have an archive of more than 3000 colors made over the years on specific customer requests.
Architectural Terrazzo
Discover our projects and the materials with which they are made