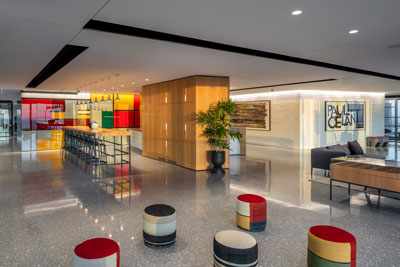 Silicon Valley Bank
Tel Aviv, Israel
In Tel Aviv, a city situated on the coast of the Mediterranean, for the new local office of Silicon Valley Bank, which supports rapidly growing, high-tech firms with specialized financial services, Agglotech marble agglomerate was used to create a setting of luminous elegance.
The project
The material Agglotech provided for this project, color SB240 Torcello, is a modern interpretation of traditional Venetian seminato flooring. The large-chip, white marble aggregate set in a gray cement base gives the setting a classic, timeless elegance in complete harmony with the rest of the building's distinctively dynamic furnishings. The glossy finish given to the marble cement elevates the overall design concept, lending greater luminosity to the space as the stunning skyline of Tel Aviv reflects off of the surface of this beautiful flooring. The same color was also used for the flooring and interior cladding of the restrooms, but a honed finish was applied in order to provide greater slip resistance. Here, too, the terrazzo slabs are a harmonious complement to the creative minimalism of this modern design.
Other projects
Discover the latest projects made with Agglotech materials.
Our Terrazzo lines
Only natural elements
Our exclusive industrial process gives us the possibility to create customized materials without the use of resins: in fact, we have an archive of more than 3000 colors made over the years on specific customer requests.
Architectural Terrazzo
Discover our projects and the materials with which they are made