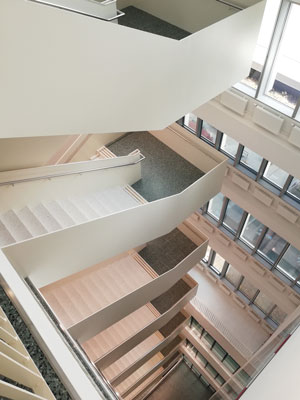 St. Erik Eye Hospital – Stockholm
Stockholm, Sweden
Solna's brand-new St. Erik Eye Hospital, in Stockholm County, Sweden, an example of excellence in ophthalmic and vision research in which enterprise, academia and health care can work together, saw the collaboration of Agglotech and the Italian company's Swedish partner, Svenks Terrazzo-Teknik, to provide the distinctive marble cement for the hospital's stair cladding.
The project
Agglotech contributed to the interior design of Sweden's new eye hospital by providing the company's Venetian terrazzo, color SB143 Carrara White 25, which features chips of luxurious, white Carrara marble. The vibrant white of the Carrara marble brightens the hospital's many stairways, evoking the expressive elegance for which this famous marble is known, while creating an atmosphere of luminous elegance. High-impact, gold details have been added to the first and last steps of each flight of stairs, both for safety and to further exalt the beauty of this amazing material. The marble-cement agglomerate produced and finished by Agglotech also ensures great technical performance in terms of resistance to both wear and cleansers, making it an ideal solution both for the aesthetic needs of the hospital's designers and for the great many functional requirements of the context in which it is used.
Other projects
Discover the latest projects made with Agglotech materials.
Our Terrazzo lines
Only natural elements
Our exclusive industrial process gives us the possibility to create customized materials without the use of resins: in fact, we have an archive of more than 3000 colors made over the years on specific customer requests.
Architectural Terrazzo
Discover our projects and the materials with which they are made