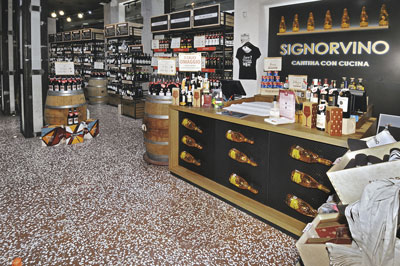 Signorvino Milan
Milan, Italy
Signorvino opened its new wine shop and restaurant in Milan to promote a culture of quality wine among young people, pairing that wine with excellent cuisine. The stunning location, great for a romantic night out or a few drinks with friends, features a stylishly sophisticated atmosphere, which is exalted by Agglotech's distinctive Venetian flooring in a color that was fully custom-made for the locale.
The project
Beauty and functionality define the flooring of Signorvino's new location in Milan, a distinctively modern interpretation of traditional Venetian seminato. With its white marble aggregate set in a brick-red cement base, the terrazzo used was custom-made by Agglotech for this project based on the needs and preferences of the designers. Agglotech's Venetian terrazzo unites a timeless style and beauty with remarkable technical performance, ensuring both excellent durability over time and great safety thanks to the material's slip-resistant finish, making it ideal for high-traffic contexts such as this. The technical characteristics of marble-cement agglomerate also facilitate routine cleaning and maintenance.
Other projects
Discover the latest projects made with Agglotech materials.
Our Terrazzo lines
Only natural elements
Our exclusive industrial process gives us the possibility to create customized materials without the use of resins: in fact, we have an archive of more than 3000 colors made over the years on specific customer requests.
Architectural Terrazzo
Discover our projects and the materials with which they are made