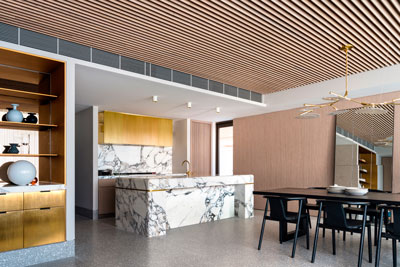 Private Home – Sydney
Sydney, Australia
Along the Australian coast, in the Sydney suburb of North Bondi bordering the world-famous Bondi Beach, MHN Design Union and the designers at The Unlisted Collective teamed up for an elegant private residence, making extensive use of natural materials in a sophisticated synergy of marble and wood. Agglotech's white marble aggregate set against a delicate hue of gray cement is a prominent feature of the home's interior design.
The project
The renowned quality of Agglotech products drew the designers to the company's Venetian terrazzo, color SB240 Torcello, for the entire flooring of this home's living area. Delicate, ashen tones adorn the living room and kitchen in perfect harmony with the surrounding wood design features. White marble aggregate, in the tradition of Venetian seminato flooring, further exalts the attention to detail of this elegant setting. Given its great versatility in style and function, marble cement was also used as cladding throughout the bathroom — both as flooring and to clad the walls and shower. Agglotech's longstanding experience and proven technical skill also enabled the creation of a custom-designed sink made of sculpted terrazzo, a perfect example of how marble-cement agglomerate can be transformed into a work of art.
Other projects
Discover the latest projects made with Agglotech materials.
Our Terrazzo lines
Only natural elements
Our exclusive industrial process gives us the possibility to create customized materials without the use of resins: in fact, we have an archive of more than 3000 colors made over the years on specific customer requests.
Architectural Terrazzo
Discover our projects and the materials with which they are made