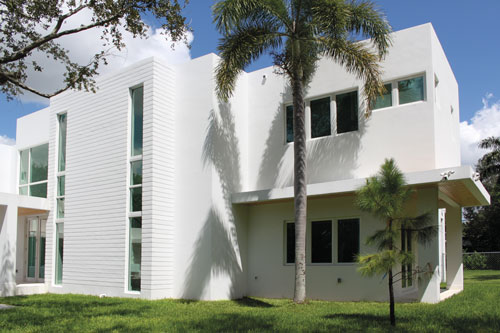 Private Home – Miami
Miami, U.S.A.
For an elegant villa in the city of Miami, Agglotech was contacted directly by the homeowner for the provision of the company's Venetian terrazzo. This marble cement was used for the terrazzo stairs, the shower flooring, and portions of the interior cladding.
The project
The choice of terrazzo was ideal for exalting the elegance of the home's interior, harmoniously pairing the lines of the Venetian flooring with the modern, minimalist style of the interior design. Color SB100 was selected for the Venetian terrazzo for all the flooring, for exterior cladding and for the stairs in a perfect union of design and functionality. Featuring a matte finish, the marble cement is a very delicate, cool white color.
The customer also opted for terrazzo for the patio and pool area. Here, too, Agglotech recommended color SB100, but with a bush-hammered finish in order to provide greater performance in terms of slip resistance.
Terrazzo proved to be an excellent solution for the entire structure, with the single white color being suited to a range of applications, including interior stairways, the patio, and even wall cladding — a testament to the versatility and ease of application of Venetian terrazzo.
Other projects
Discover the latest projects made with Agglotech materials.
Our Terrazzo lines
Only natural elements
Our exclusive industrial process gives us the possibility to create customized materials without the use of resins: in fact, we have an archive of more than 3000 colors made over the years on specific customer requests.
Architectural Terrazzo
Discover our projects and the materials with which they are made