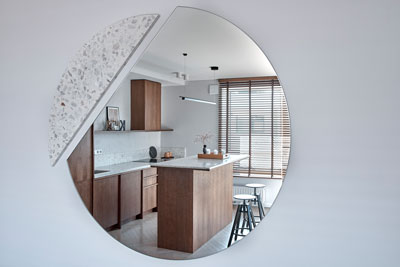 Private Home – Lithuania
Lithuania
An apartment in Lithuania is a perfect example of harmony between past and present, a space in which the marble-working tradition of Agglotech's Venetian terrazzo has lent a touch of style and modernity to a number of indoor settings. Two very different colors of terrazzo, SB250 Lido and SB124 Grigio Rotondo, were selected for this project and were used in a variety of applications.
The project
Agglotech's SB250 terrazzo was selected for the kitchen of a luxurious apartment in Lithuania. Featuring a gray marble aggregate with marble chips of varying sizes set in a white cement base, this product combines the traditional beauty of marble with the high technical performance of agglomerate. Marble cement was chosen for the kitchen countertops and backsplash, as well as for the tabletop, as this material is the ideal choice for use in original, modern designs. Thanks to the company's sophisticated technologies and skilled craftsmanship, the same color of terrazzo was also used to create a beautiful design feature for the mirror. A second color of terrazzo was chosen as cladding for the entire bathroom. Here, the bold-gray SB124 Grigio Rotondo unites the beauty of marble with the benefits of a highly functional surface.
Other projects
Discover the latest projects made with Agglotech materials.
Our Terrazzo lines
Only natural elements
Our exclusive industrial process gives us the possibility to create customized materials without the use of resins: in fact, we have an archive of more than 3000 colors made over the years on specific customer requests.
Architectural Terrazzo
Discover our projects and the materials with which they are made