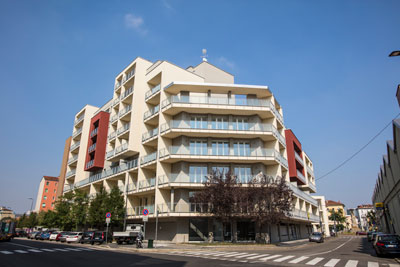 Piazza Santorre di Santarosa
Milan, Italy
In a collaboration with Trapattoni Marmi, Agglotech has provided the terrazzo for the flooring and stairs and wall cladding for this multipurpose structure of both offices and apartments in the heart of Milan's Musocco district.
The project
Located along Via Bernardino Galliari and Via Ludovico di Breme, this three-story building curves around Piazza Santorre di Santarosa. SB 130 Aggloceppo: a deep gray material featuring chips of varying colors and sizes of a traditional Italian stone known as Ceppo di Gré. This was used for the terrazzo flooring on one of the floors and for the terrazzo staircases. Terrazzo cladding was also used for the columns on the ground floor and on the ground-level walls facing the street. Marble-cement agglomerate is an increasingly popular building material among architects and designers, who use terrazzo as cladding for a range of larger surfaces. A modern interpretation of a traditional Italian material.
Other projects
Discover the latest projects made with Agglotech materials.
Our Terrazzo lines
Only natural elements
Our exclusive industrial process gives us the possibility to create customized materials without the use of resins: in fact, we have an archive of more than 3000 colors made over the years on specific customer requests.
Architectural Terrazzo
Discover our projects and the materials with which they are made