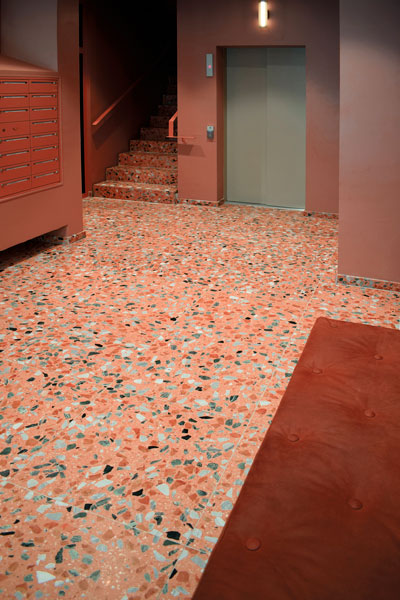 Mono Stockholm
Stockholm, Sweden
A new concept in both construction and living for project "MONO", presented by the architecture firms Note Designs and Koncept for the company Glommen & Lindberg. Mono is located in Södermalm, a rapidly growing district in south-central Stockholm populated by young designers, architects and developers.
The project
For MONO, Agglotech worked with our Swedish partner, Svensk Terrazzo-Teknik, to provide a fully customized, brick-red terrazzo made with large-chip marble aggregate. This terrazzo was used for the building's interior staircases and as flooring in the building's public spaces, as well as for cladding on certain significant interior-design features. Cut into slabs from blocks of terrazzo made in Italy, the flooring can be used in a wide variety of applications. The building lies in an area of Södermalm that remains relatively unknown, but which is being populated by up-and-coming designers, architects and developers. It is an urban setting that is rich in office, retail and residential spaces. Note Designs was hired by the construction firm Glommen & Lindberg to give the building its unique interior design, which takes full advantage of the space available.  The unique style of Mono sets this project apart from both passing trends and typical Swedish design.
Other projects
Discover the latest projects made with Agglotech materials.
Our Terrazzo lines
Only natural elements
Our exclusive industrial process gives us the possibility to create customized materials without the use of resins: in fact, we have an archive of more than 3000 colors made over the years on specific customer requests.
Architectural Terrazzo
Discover our projects and the materials with which they are made