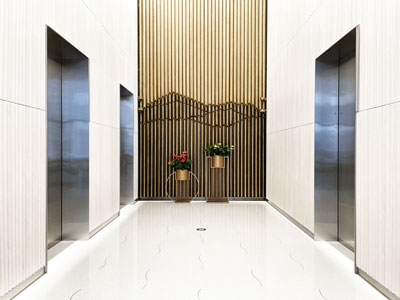 New Bund Center
Shanghai, China
An elegant combination of wood, steel and marble defines the ample main halls of Shanghai's New Bund Center, a majestic building erected to house hundreds of businesses in a work-friendly environment. In order to lend a touch of modern elegance to the building, the designers selected Agglotech's high-quality marble-cement agglomerate for the interior flooring.
The project
The remarkable versatility of Agglotech's Venetian terrazzo enables designers to let their creativity flow through a great many, highly customizable colors for stunning, one-of-a-kind projects. A perfect example is the flooring for Shanghai's New Bund Center, with Agglotech providing the company's SB100 White marble cement enhanced with elegant patterns of black. With its gloss finish, this Venetian flooring adds light and sparkle to the setting, exalted by the colors and artistic flair of the small-chip marble aggregate set in a bright white cement base. Agglotech products have also been used in the office spaces, offering both stunning beauty and excellent technical performance in a single solution that ensures remarkable durability over time.
Other projects
Discover the latest projects made with Agglotech materials.
Our Terrazzo lines
Only natural elements
Our exclusive industrial process gives us the possibility to create customized materials without the use of resins: in fact, we have an archive of more than 3000 colors made over the years on specific customer requests.
Architectural Terrazzo
Discover our projects and the materials with which they are made