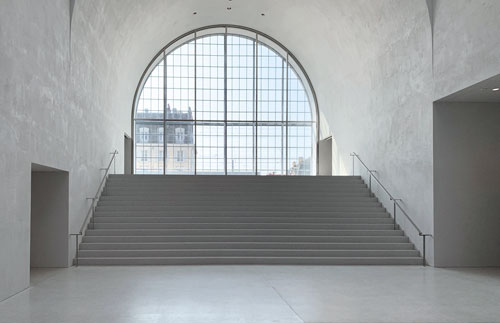 Lausanne's Musée Cantonal des Beaux-Arts (MCBA)
Losanna, Switzerland
The inauguration of Lausanne's new Musée Cantonal des Beaux-Arts in 2019 came as part of efforts to redevelop the entire area near the city's train station. The museum's steps bear the print of Agglotech.
The project
Agglotech designed a fully custom material based on the indications of Barozzi Veiga, architects for the Lausanne museum project. Agglotech's Venetian terrazzo chosen for a staircase, with a thickness of 5 cm, is particularly suited to use indoors for stairs and flooring of all sizes. Its highly resistant surface makes this terrazzo both durable and easy to clean.
The museum covers a total surface area of over 20,000 sq m, near the city's main train station, a plot of land that was previously occupied by 19th-century industrial buildings. The Venetian terrazzo underscores the building's historical context while giving it a new, more modern look.
Other projects
Discover the latest projects made with Agglotech materials.
Our Terrazzo lines
Only natural elements
Our exclusive industrial process gives us the possibility to create customized materials without the use of resins: in fact, we have an archive of more than 3000 colors made over the years on specific customer requests.
Architectural Terrazzo
Discover our projects and the materials with which they are made