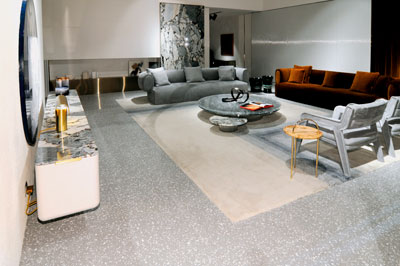 Milan Design Week
Milan, Italy
For the 58th edition of Milan Design Week, the premier event for the interior design industry, Agglotech terrazzo, color SB240, was used for all the flooring at the Gallotti e Radici booth.
The project
With its traditional charm, contemporary elegance, and all the qualities of marble, Venetian terrazzo has again proven to be an ideal union of past and present.
The designers opted for the color SB240 Torcello, from Agglotech's Seminato Veneziano line. The airy, open pattern of this version features a large-chip marble aggregate set in a gray cement base.
It is a modern interpretation of timeless Venetian terrazzo, lending continuity and color consistency to the space in which it is used.
The noble aesthetic of Venetian flooring and the installation techniques used are the result of Agglotech innovation and constant research to create high-performance, high-value solutions that ensure extreme levels of design freedom.
Without compromising on elegance and sophistication, this material provides durability over time together with easy maintenance and cleaning.
Other projects
Discover the latest projects made with Agglotech materials.
Our Terrazzo lines
Only natural elements
Our exclusive industrial process gives us the possibility to create customized materials without the use of resins: in fact, we have an archive of more than 3000 colors made over the years on specific customer requests.
Architectural Terrazzo
Discover our projects and the materials with which they are made