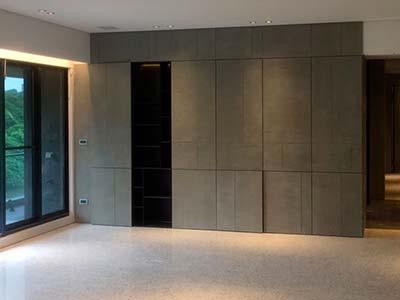 Luxury apartment – Nangang District, Taipei
Taipei, Taiwan
A creative, versatile and ecological material, Agglotech marble-cement agglomerate was selected for a range of applications in a luxury apartment in the Nangang District, in Taipei City, Taiwan. The Agglotech terrazzo featured for this project were special colors with chips of white Carrara marble, which were perfect for the modern, minimalist design of this apartment.
The project
Universally recognized as one of the most prestigious marbles, the white marble extracted directly from the Carrara quarries was amalgamated in two cement bases of contrasting colors: SB143 Carrara White and SB160 Carrara Gray. The vibrant, white SB143 terrazzo was used for the flooring and as interior cladding on the walls in one of the bathrooms. For the flooring in the open-concept living area, the terrazzo was given a gloss finish, whereas a honed finish was used for the flooring and wall cladding of the bathrooms. The SB160 Venetian terrazzo, featuring white marble chips set in a gray cement base, was used around the sinks and tub in the bathroom to create a delicate contrast of color that lends a modern dynamism to the room.
Other projects
Discover the latest projects made with Agglotech materials.
Our Terrazzo lines
Only natural elements
Our exclusive industrial process gives us the possibility to create customized materials without the use of resins: in fact, we have an archive of more than 3000 colors made over the years on specific customer requests.
Architectural Terrazzo
Discover our projects and the materials with which they are made