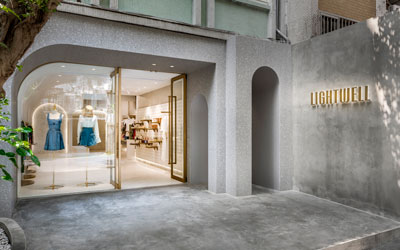 Located in Taipei's bustling Zhongzheng Nanxi commercial district, Lightwell is promoting the first retail concept store that combines fashion and contemporary art. On the ground floor, three different colors of Agglotech terrazzo have been chosen for the flooring and for the interior and exterior cladding of the store for their distinctly Italian character.
The project
Elegance characterizes the setting before even entering the store, as the bold gray of the marble cement cladding, color SB240 Torcello, used on the facade presents a sophisticated combination of soft curves and sharp angles. Here, the white marble aggregate is a modern interpretation of this natural material, inspired by the tradition of Venetian seminato, exalted by the bold character and expressiveness of terrazzo. The color SB143 Carrara White 25 was selected for all the interior flooring to reinforce the style and sophistication of the luxury fashion on display. The marble agglomerate, featuring top-quality marble chips of varying colors set in a white cement base, add light and vibrancy to the entire store. Finally, the intriguing large-chip mosaic of the SB250 Lido terrazzo lends a decisive vitality to the walls of the store and to the check-out desk, evoking the tradition of Venetian seminato in the same bright white found throughout this elegantly minimalist locale.
Other projects
Discover the latest projects made with Agglotech materials.
Our Terrazzo lines
Only natural elements
Our exclusive industrial process gives us the possibility to create customized materials without the use of resins: in fact, we have an archive of more than 3000 colors made over the years on specific customer requests.
Architectural Terrazzo
Discover our projects and the materials with which they are made