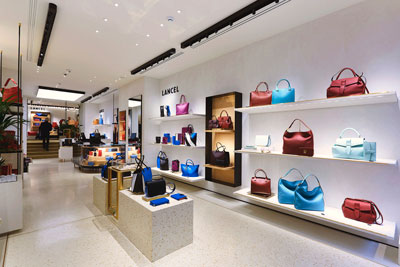 Falconeri – Florence
Florence, Italy
When skillfully combined by Agglotech, the right materials can give rise to colors that evoke both age-old traditions and decidedly elegant, modern design. This is definitely true of the flooring at the Lancel store in the Italian city of Alessandria. For this project, the marble-aggregate flooring provided by Agglotech was the company's SB140 color.
The project
Lancel, the French luxury leather-goods maison founded in Paris in 1876, saw the involvement of Agglotech in the provision of the company's Venetian terrazzo for all the flooring of their new store in Alessandria. A number of countertops in the center of the store have also been clad in terrazzo, in harmony with the surrounding floors.
The goal of the project was to create a setting that would be both simple and refined in order to exalt the fashion house's luxury leather goods.
The designers of the new store selected color SB140 Cà d'Oro as the right solution to show off Lancel's products in this new store. The pairing of the warm tones of the marble aggregate against the bright white of the cement gives the store a touch of personality that is in perfect harmony with its simple, linear design.
Other projects
Discover the latest projects made with Agglotech materials.
Our Terrazzo lines
Only natural elements
Our exclusive industrial process gives us the possibility to create customized materials without the use of resins: in fact, we have an archive of more than 3000 colors made over the years on specific customer requests.
Architectural Terrazzo
Discover our projects and the materials with which they are made