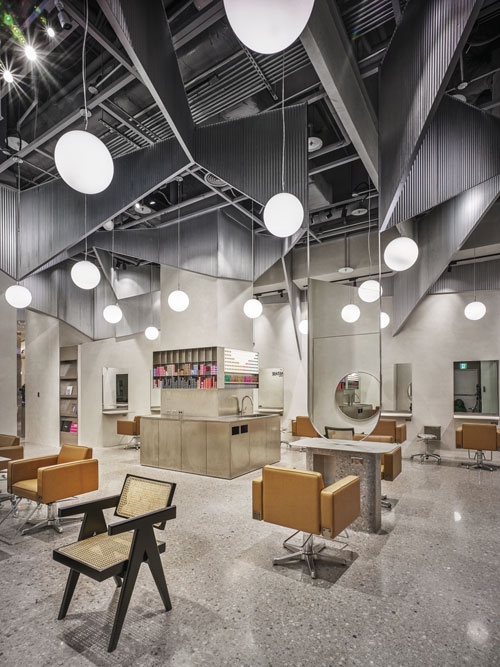 Kérastase Flux Salon
Taipei, Taiwan
The Kérastase Flux Salon in Taipei made extensive use of Agglotech's Venetian terrazzo, not only for its terrazzo flooring, but also for internal wall cladding, terrazzo design elements and other sculpted elements. The color chosen was our SB124 Rotondo, a gray marble cement featuring brownish marble chips.
The project
Design, harmony and purity of form for Taipei's Kérastase hair salon. The know-how we have achieved through constant experimentation and our collaboration with ShiChieh Lu and his architectural design firm, CJ Studio, have made this innovative concept possible, and we chose to exalt it with our SB124 Rotondo gray terrazzo for the flooring and other design elements. Agglotech terrazzo reflects the tradition of Venetian seminato, but in a more modern interpretation. Our terrazzo is produced in blocks and then cut into slabs. This process enabled Agglotech material to be used for the flooring as well as for wall cladding and to create certain design elements, such as the terrazzo tables within the salon.
Other projects
Discover the latest projects made with Agglotech materials.
Our Terrazzo lines
Only natural elements
Our exclusive industrial process gives us the possibility to create customized materials without the use of resins: in fact, we have an archive of more than 3000 colors made over the years on specific customer requests.
Architectural Terrazzo
Discover our projects and the materials with which they are made