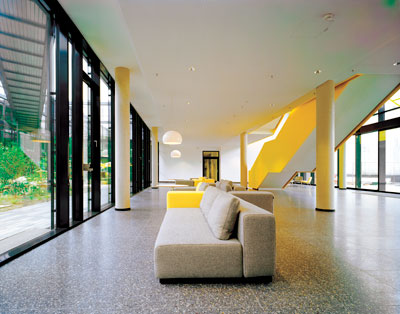 Kärcher Headquarters – Winnenden
Winnenden, Germany
The project to expand the headquarters of Kärcher, in Winnenden, Germany, near Stuttgart, involved the construction of new office areas, a conference hall, a number of smaller conference rooms, and a cafeteria. Agglotech terrazzo, color SB113, was used for the interior flooring and for the stairs.
The project
Kärcher, a multinational organization known for its professional cleaning systems, commissioned Reichel Schlaier Architects to design the new expansion, for which Agglotech's marble-cement agglomerate was selected as cladding for the stairs and as flooring for the main lobby and for a number of other rooms. SB113 Black Multicolor terrazzo, from our Classico line, was chosen for its distinctive interplay of colors created by the varying-sized marble aggregate used. This product, which faithfully reproduces the beauty of the natural materials used, played a key role in this project, lending both dynamism and color consistency to the building as a whole. The pairing of black marble cement with yellow-hued elements, which reflect the identifying color of the company, has given the headquarters a sense of welcome while downplaying the austerity of the building's function.
Other projects
Discover the latest projects made with Agglotech materials.
Our Terrazzo lines
Only natural elements
Our exclusive industrial process gives us the possibility to create customized materials without the use of resins: in fact, we have an archive of more than 3000 colors made over the years on specific customer requests.
Architectural Terrazzo
Discover our projects and the materials with which they are made