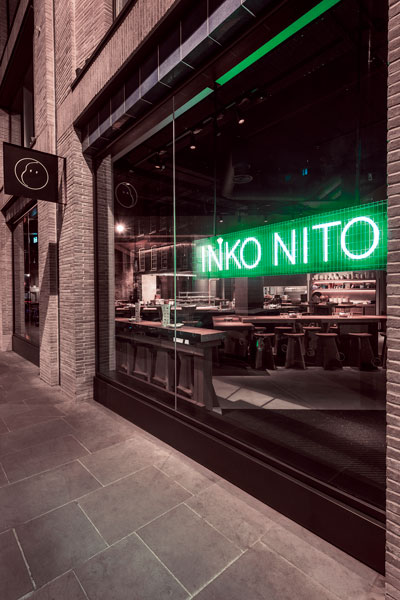 Inko Nito – Soho – London
London, United Kingdom
A sophisticated, unconventional location was the objective set for the Agglotech team for the renowned Japanese restaurant Inko Nito in London's Soho district. Hence the selection of our equally sophisticated, modern Venetian flooring from our "micro terrazzo" line.
The project
This customer needed a durable, yet modern material that would match the design concepts of the restaurant's architects. Venetian terrazzo, color SB 149 Smoke, was the material selected and provided in collaboration with our British partner InOpera Group. A part of the Agglotech micro terrazzo line, this is a favorite among architects and designers for how it is suited to covering vast surface areas, which underscore the consistency of this color. Our micro terrazzo line is not a traditional terrazzo, but rather a modern interpretation of Venetian terrazzo, the result of years of testing and constant updates to our machinery in order to create a material with very small marble chips that could be distributed homogeneously throughout the block or slab.
Other projects
Discover the latest projects made with Agglotech materials.
Our Terrazzo lines
Only natural elements
Our exclusive industrial process gives us the possibility to create customized materials without the use of resins: in fact, we have an archive of more than 3000 colors made over the years on specific customer requests.
Architectural Terrazzo
Discover our projects and the materials with which they are made