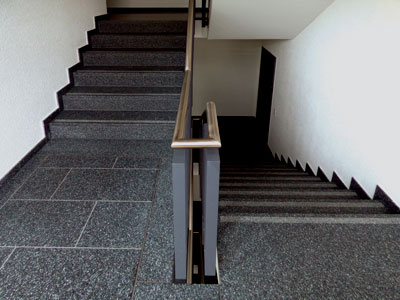 Grüne Mitte
Essen, Germany
Having sought an extremely durable material for the stair cladding and a portion of the flooring of a residential building in Germany, the designers went with Agglotech's Venetian aggregate and cement terrazzo, color SB175.
The project
Particularly suited to high-traffic areas, Venetian terrazzo provides durability and easy maintenance without compromising on the elegance of marble aggregate.
For the interior common areas of this building in the town of Essen, color SB175 Nero Perla of the company's marble cement was used. Featuring a multi-color, small-chip marble aggregate set in a black cement base, the terrazzo slabs have given these spaces their own personality with the varied color tones standing out against the uniformity of the surrounding surfaces.
Obtained by combining all-natural materials, the recomposed stone was custom finished in order to adapt it to the various applications required, including the flooring in the lobby and the cladding for the stairs, to which a special bush-hammered finish was applied to create an area of slip resistance on each step.
Other projects
Discover the latest projects made with Agglotech materials.
Our Terrazzo lines
Only natural elements
Our exclusive industrial process gives us the possibility to create customized materials without the use of resins: in fact, we have an archive of more than 3000 colors made over the years on specific customer requests.
Architectural Terrazzo
Discover our projects and the materials with which they are made