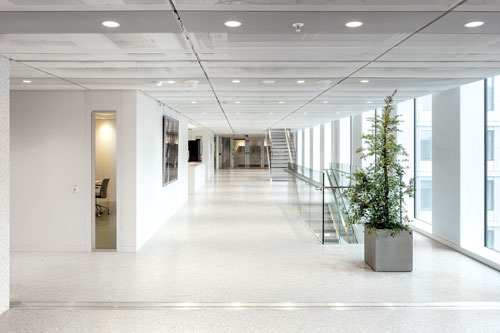 Government Offices, Kv Björnen
Stockholm, Sweden
Two elegant, custom-made colors with a decisive personality for this government building in Stockholm, Sweden. Agglotech, together with the company's Swedish partner Svensk Terrazzo-Teknik, provided the Venetian terrazzo for various applications in the government offices in Kv Björnen, including for the floors, stairs, and other interior cladding.
The project
The two colors of terrazzo used for this project were custom designed by Agglotech, which produces the marble-cement terrazzo naturally with no added resins and can create custom colors to meet the needs of architects and designers.
The two custom colors were used in different applications, the lighter colored terrazzo for the floors and the darker color for the stairs and wall cladding. Both colors give their settings a touch of sparkle and dynamism. The lighter color of the Venetian flooring features large and mid-sized chips of white and gray marble aggregate, whereas the darker terrazzo, used for the stairs and wall cladding, has smaller marble chips in a range of colors set in a base of dark gray cement. Both versions provide the extremely elegant effect that is so typical of terrazzo, a material that unites practicality and ease of cleaning with a truly unique chromatic experience.
Partner: Svensk Terrazzo-Teknik
Other projects
Discover the latest projects made with Agglotech materials.
Our Terrazzo lines
Only natural elements
Our exclusive industrial process gives us the possibility to create customized materials without the use of resins: in fact, we have an archive of more than 3000 colors made over the years on specific customer requests.
Architectural Terrazzo
Discover our projects and the materials with which they are made