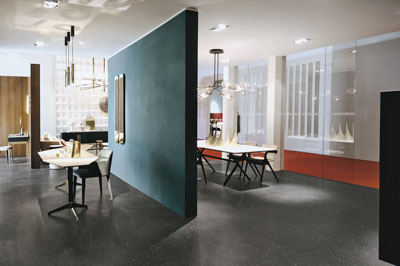 Gallotti e Radice: Milan Design Week
Milan, Italy
For the 57th edition of Milan Design Week, Agglotech provided the Venetian terrazzo for all the flooring for the booth of Gallotti e Radice, the prestigious Italian firm with extensive experience using crystal in interior design.
The project
Gallotti e Radice has been an example of mastery and excellence in interior design since the early 1960s, creating, transforming and producing their products entirely in Italy, placing particular emphasis on the environment and on the selection of materials.
For their involvement in Milan Design Week, a major event for the interior design industry, they needed a booth with an elegant design that best reflected the quality and sophistication of their brand.
To this end, Agglotech was selected by their booth designers to provide the Venetian flooring, having found this marble-cement agglomerate to be the ideal material to pair with the elegance of the design collection to be put on display.
Color consistency, wear resistance and ease of maintenance were the keys that led to the selection of Agglotech Venetian terrazzo for this project. The SB171 Nero Venato color gave exceptional character to the space thanks to the black and gray, mid-sized marble aggregate set against a dark-gray cement base.
Other projects
Discover the latest projects made with Agglotech materials.
Our Terrazzo lines
Only natural elements
Our exclusive industrial process gives us the possibility to create customized materials without the use of resins: in fact, we have an archive of more than 3000 colors made over the years on specific customer requests.
Architectural Terrazzo
Discover our projects and the materials with which they are made