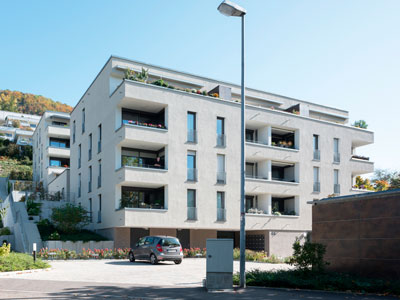 BV Immanuel-Kant Strasse
Frankfurt, Germany
For the construction of a new residential complex on Immanuel-Kant Strasse in Frankfurt, Germany, Agglotech provided the marble cement, in the characteristic gray color known as SB130 Aggloceppo, for all the interior flooring of the common areas.
The project
This new residential building in the city of Frankfurt unites traditional German architecture with the sophistication of modern design. The minimalist style of the building's interior has been enriched with the elegant patterns of marble aggregate set in a gray cement base. Marble chips of varying sizes and colors in the cladding used for the flooring and stairs in the building's common areas add a touch of distinctive character and authenticity to the entire setting. The expressive power of Agglotech's Venetian terrazzo lends modern charm to any space in which it is used, while creating an air of warmth and intimacy. This high-performance material is also highly durable and resistant in high-traffic areas, while ensuring ease of maintenance and routine cleaning.
Other projects
Discover the latest projects made with Agglotech materials.
Our Terrazzo lines
Only natural elements
Our exclusive industrial process gives us the possibility to create customized materials without the use of resins: in fact, we have an archive of more than 3000 colors made over the years on specific customer requests.
Architectural Terrazzo
Discover our projects and the materials with which they are made