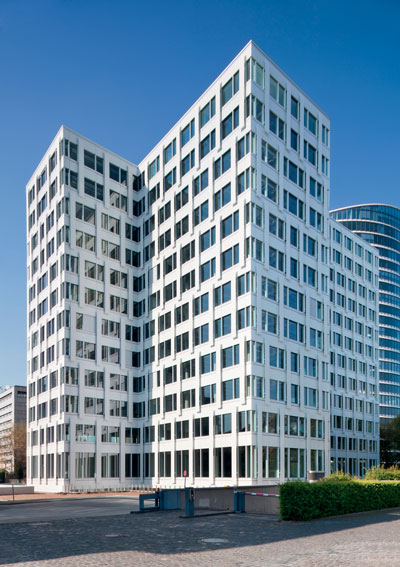 Benningsen Platz – Düsseldorf
Düsseldorf, Germany
Agglotech's Venetian marble aggregate and cement terrazzo, color SB148, exalts a number of rooms in Düsseldorf's modern Benningsen Platz building.
Centrally located between Kennedydamm and Kaiserswerther Strasse, this impressive building is the site of trade shows, seminars, workshops, and temporary exhibits.
The project
Agglotech provided the company's SB148 Grafite marble cement agglomerate from the Microterrazzo line for a portion of the cladding for the interior stairs and for some of the building's flooring. This particular version of terrazzo features very small marble chips set in a dark gray cement base, making it well suited to vast surface areas that call for a high degree of color consistency.
The dark gray Venetian flooring were an elegant addition to a number of rooms that feature a modern, minimalist design, accentuating the geometric shapes of the lighting fixtures and other design elements against the uniformity of color of the micro-chip marble cement agglomerate.
Other projects
Discover the latest projects made with Agglotech materials.
Our Terrazzo lines
Only natural elements
Our exclusive industrial process gives us the possibility to create customized materials without the use of resins: in fact, we have an archive of more than 3000 colors made over the years on specific customer requests.
Architectural Terrazzo
Discover our projects and the materials with which they are made