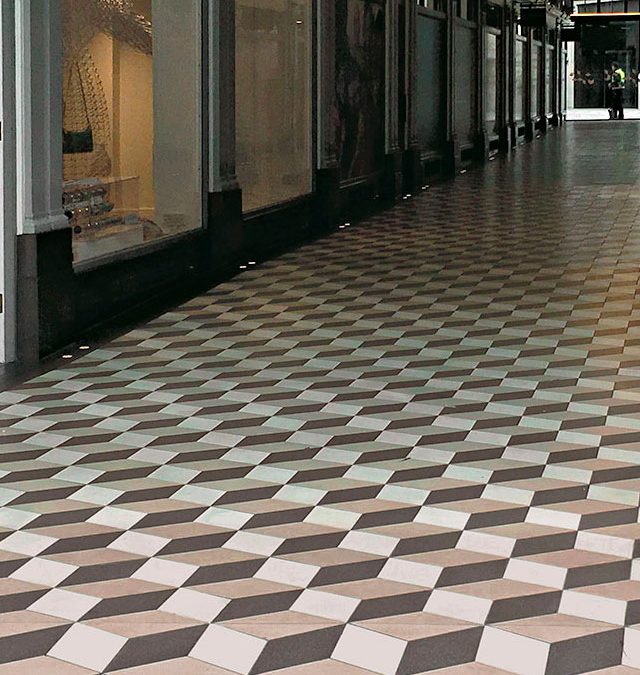 Within the fully renovated context of London's Regent Street, the Arcade project involved an innovative redevelopment that both preserved the distinctive traits and historical spirit of the original building and gave it new life by changing some of its key aspects. The result was a modern retail destination perfectly inserted into its surrounding context.
The project
Winner of the 2019 New London Architecture Awards in the Retail category, the Arcade and Regent Street project has breathed new life into this Grade II listed building of historical and cultural interest. The transformation included the design of a stunning terrazzo-tiled floor to replace the previous Regent Street column. Agglotech and InOpera Group, our exclusive distributor for the U.K., worked with the project's architect, Barr Gazetas, to create an all-new terrazzo flooring for the new entrance. In addition to providing the Agglotech terrazzo flooring, we provided our usual technical support throughout all stages of the project, including the careful selection of the color, in order to meet the technical requirements and respect the look and design called for by the architect.
The Arcade's Venetian-terrazzo flooring proved to be the right choice, as it redefined the look of the building while fully satisfying the intent to modernize this section of Regent Street. Agglotech's micro-terrazzo flooring, with its special, anti-slip finish, also meets the strict standards of British laws and regulations.
Agglotech marble cement is a favorite among architects around the world for its versatility, variety of colors, durability and reliability.
Other projects
Discover the latest projects made with Agglotech materials.
Our Terrazzo lines
Only natural elements
Our exclusive industrial process gives us the possibility to create customized materials without the use of resins: in fact, we have an archive of more than 3000 colors made over the years on specific customer requests.
Architectural Terrazzo
Discover our projects and the materials with which they are made