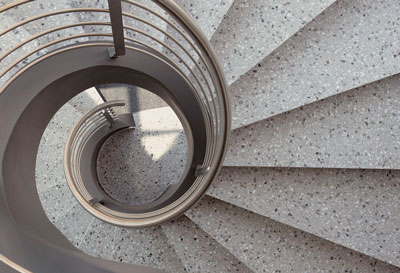 Here at Agglotech, when we refurbished and expanded our Verona offices (in Via Monte Santa Viola), we took the opportunity to try out our own marble cement as exterior cladding using the Fischer Genius system.
For the interior, we honed and caulked the terrazzo flooring on site to achieve perfectly level and smooth surfaces.
The project
Our indoor flooring features 2cm slabs of Venetian terrazzo laid over a concrete base using our Agglofix S2 mortar. The joints were sealed with colored caulk, and the entire surface was then honed again on site to achieve perfectly level, smooth floors. Constructed from prefabricated components, the spiral staircase is clad in molded terrazzo laid at a 45° angle. Designed and installed in collaboration with Fischer, the exterior cladding features graphite (SB 148) and green (SB 111) panels measuring 130 x 80 cm. For our headquarters, Fischer recommended their Genius system, which calls for the installation of vertical and horizontal aluminum supports using special FZP anchors and rods directly within the slabs in a union of skill and quality materials that once again underscores the enormous potential of Agglotech's Venetian terrazzo.
Other projects
Discover the latest projects made with Agglotech materials.
Our Terrazzo lines
Only natural elements
Our exclusive industrial process gives us the possibility to create customized materials without the use of resins: in fact, we have an archive of more than 3000 colors made over the years on specific customer requests.
Architectural Terrazzo
Discover our projects and the materials with which they are made