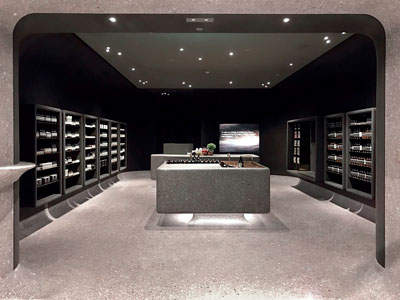 Aēsop In Taiwan
Taichung, Taiwan
The Australian cosmetics firm Aēsop, in partnership with Winnie Stone, has chosen Agglotech's marble cement for the flooring and sculpted elements for their new store in Taiwan. Aēsop stores are known for their sophisticated design and meticulous attention to color and materials.
The project
Aēsop is one of the many international brands that has chosen Agglotech terrazzo for their stores. Over the years, its ability to be used in a wide range of applications and colors and its uncompromising durability and reliability have convinced a great many architects, designers and organizations to place their trust in this material made of cement and marble aggregate. The marble-cement agglomerate chosen for this project was provided by our partner Winnie Stone, in the color SB130 Aggloceppo, for both the flooring and for a large part of the design features made from sculpted terrazzo. Blocks of terrazzo were shipped directly from Italy and then cut and sculpted on site by Winnie Stone based on the needs of the client. Out of these terrazzo blocks came the reception area, portions of the walls and the columns, and the store's shelves. This sculpting process can be used to create products based on your own designs and in custom shapes and thicknesses. The color chosen by the company is highly popular in the world of design: SB130 Aggloceppo, a shade of gray from our Unico line for which we are extremely proud.
Other projects
Discover the latest projects made with Agglotech materials.
Our Terrazzo lines
Only natural elements
Our exclusive industrial process gives us the possibility to create customized materials without the use of resins: in fact, we have an archive of more than 3000 colors made over the years on specific customer requests.
Architectural Terrazzo
Discover our projects and the materials with which they are made